Take advantage of our professional mastering studio combining the best carefully chosen analog and digital technologies.
We have a high-end sound system in a precise and controlled acoustic environment.
Our expertise consists of optimizing the audio quality of your works in order to do justice to your vocal performance, your instrumental playing, your musicality, your sensitivity and your creativity.
Our mastering services:
Mastering CD / EP
Mastering single radio
Mastering by Stems, from tracks and/or separate groups
Scanning, restoration and optimization of audio tapes:

Vinyls, tapes, DAT, other audio archives

E-Mastering
Archiving and remastering of catalogs
Encoding of Codes ISRC and CD-Text
Delivery formats :
DDP Master (Yellowbook Master)
CD (Redbook Master)
Audio files for digital distribution
MP3 (High quality for promotion)
The benefits and advantages of analog processing:
Great musicality
Lively and controlled dynamics with an incomparable organic texture
«Glue» effect between musical elements
Analog sound softness and roundness on the overall spectrum of frequencies.
Apple Digital Masters (Formerly MFiT)
We are experts in specific mastering methods and practices, preparing your music according to High-Resolution audio standards by Apple and to allow your customers to have access to the highest audio quality possible.
Learn more
on the functional and the advantages of Apple Digital Masters
Take advantage of a quick online service, where your music will be processed with as much care, rigour and attention than during a studio session.
We can guarantee you that it will not be a machine but a real human being who will produce the mastering!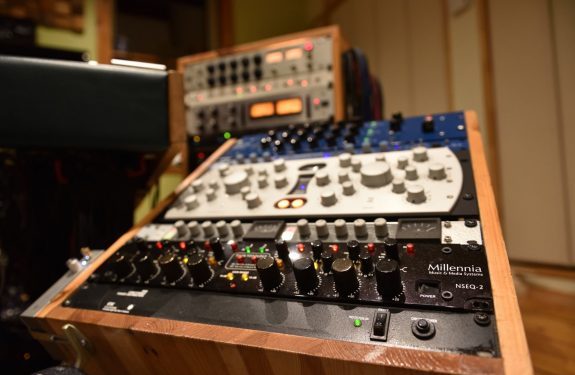 You want to listen to one of your E-Mastered works?
We offer you a FREE TRIAL with NO OBLIGATION.
We will be happy to allow you to evaluate the degree of improvement which your work could benefit from E-Mastering. We will proceed FREE OF CHARGE to the E-Mastering of your work and you will be able to listen to it and compare it to the original work. If you are satisfied with the result, you will be able to buy it. There's no obligation.
Free trial procedures or how to provide your files to E-Master
Read the PROCEDURES FOR PREPARATION OF SESSION AND FOR TRANSFER OF FILES
Click here on this secured Dropbox uploading link to send us your files.
Please also send us an email including: your contact information, the title of the song as well as a brief description of your project.
We can assure you that any file sent to us will remain confidential.
PROCEDURES FOR PREPARATION OF SESSION AND FOR TRANSFER OF FILES
It is important to be vigilant during the preparation and the transfer of files destined to mastering. This allows you to fully benefit from our work.
DELIVERY OF AUDIO FORMATS:
Wave or AIFF (Save the sampling frequency of your mixing session)
Minimum resolution : 44.1 Khz/16 bit , stereo (No MP3)
A peak level around -3 dbfS in 24 bit is very reasonable
Avoid using a limiter or a compressor on your master section. However, if you like the effect produced by your master section, provide a second version with those plugins for evaluation and comparison
Mastering by Stems makes it possible to improve the sound of your works.
If the mixing of your work is to your complete satisfaction in all its components (dynamic, EQ, spatialization, etc.), then a classic stereo mastering is sufficient.
However, if as in the majority of cases, the mixing of you work suffers from a few flaws, compromises will need to be made if resorting to a classic mastering, in order to correct those flaws to obtain the best result possible.
For example, let's say that you mixed an audio recording and you realize that a certain degree of achievement is possible and that some imperfections need to be corrected:
Voice not present enough, too sibilant
Sound texture of the voice or of an instrument needs optimizing
Too many sharp notes for an instrument
Not enough or too much resonance
Balance to improve in the register of low frequencies (bass, bass drum, etc » …)
In those cases, a mastering by stems would have made it possible to obtain much better results than a classic mastering, because these technical problems do not have perfect solutions when it comes to a classic mastering.
With a mastering by Stems, several problems which have been identified can be corrected without this affecting (or to a negligible degree) the other elements of your work.
Variation of classic mastering, the mastering by Stems consists of:
Integrate different parts of your recording tracks by theme or groups of instruments (Stems) such as: voice stems, percussive stem, bass stem, etc. and to integrate them in a coherent whole that will maximize the range of each portion of the recording.
Each group of instruments will be dealt with separately: dynamic, EQ, spatialization, etc.
Thanks to this procedure, the sound quality is improved, more balanced and more harmonious because all the mistakes from the original mix are corrected.
The results?
A work with a rich, harmonious and balanced sound, which surpasses the quality of the original mix.
DIGITALIZATION AND RESTORATION
We have the technical expertise and the equipment enabling to save, restore and archive old irreplaceable audio formats: Vinyls, tapes, DAT and other medium…
Contact us to discuss your needs and to make the necessary arrangements.